When I've watched an epicly awesome game on TV…I often wonder what it must be like to be there in the crowd and experience the game live and in person.  I get such a high watching the game at home on my tv…so being there when it happened, that has got to be cool.  I've been to my fair share of Red Sox games before.  I've seen wins.  I've seen losses.
Until last night, I had never been to a walk off.  It was amazing.  One, Darnell McDonald is a new hero in Red Sox Nation.  The guy in the row in front of me…he scoffed and said "Why would Francona put this guy into the game?  Don't we have anybody better?"  Then.  McDonald.  MOSTER. GONE. HOMERUN.  I tapped the guy on the shoulder…smiled…and said, "That's why."
Then, we get Jonathan Papelbon in a game.  I enjoy any opportunity to hear Shipping Up To Boston.  Pap gets the job done…and we are on to the 9th.  Youk on base.  Tek on base.  Scoot. Sac bunt.  Mikey Lowell.  IBB.  Boo.  Adrian Beltre.  Pop Up.  Aurgh.  And then McDonald comes up again.  The guy in the row in front of me…his dad turns around to me and says, "Think he can do it again."  I told him…"I sure hope so." and then we high fived.  McDonald…not another HR…but good enough.  He smacked that ball off the Monster and WALKOFF.
And yeah, watching it in the stands…with thousands of other people.  It's one of the best feelings EVAH!  Jumping up and down, high fiving and hugging complete strangers.  Singing Dirty Water at the top of your lungs.  It's an experience….that, I highly recommend.
Win or lose.  Fenway Park is the best place to be.  However, the walkoff.  Epic.  Awesomesauce.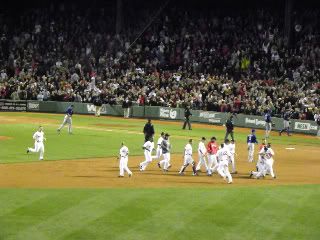 Let's Go Red Sox!
P.S.  I also LOVE that Mikey Lowell got himself into the game.  I adore Papi.  Always will.  However, I also loved to see Mikey coming in as a pinch hitting DH.  I was standing.  I was cheering.  I basically went insane. Lowell needs to start more games at DH.  He's on our team and just wasting away on the bench.  And, I'd also like to give MAD PROPS to Jason Varitek.  He wasn't the hero of the night…that goes to McDonald.  However, he set the stage twice for McDonald to have the opportunity.  Tek hits an awesome double…to set up McDonald for the homerun.  Tek takes a walk to get on base…with 2 outs…to set up the IBB of Lowell and then McDonald again to be our late inning hero.  Tek.  Love.  That is all.