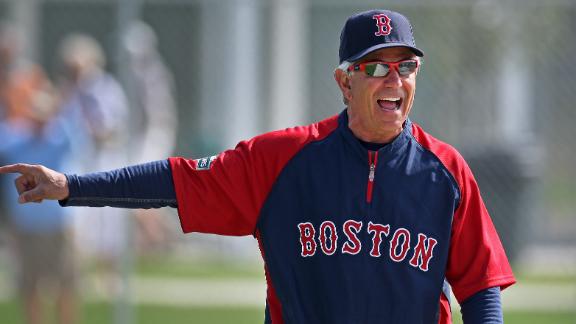 Love him or hate him, Bobby Valentine does not have a very long leash with Red Sox Nation. He did not bring home two World Series Championships like Tito did so every move he makes is going to be looked at under a microscope. When the Red Sox had a terrible start to the season last year there were not that many people calling for Francona's head, yet with one loss in Bobby V.'s tenure the sky is falling. Yesterday, reliever Melancon was baited with the question, "Do you think Bobby Valentine had a quick hook?" He took the bait but stopped short of throwing his manager under the bus. Boston Globe columnist Tony Massarotti wrote this today:
Already, the relievers are eating away at the confidence and morale of this team.
No decision is going to be second guessed more than Valentine's decision to select Alfredo Aceves as the closer once Andrew Bailey went down with an injury. Daniel Bard seemed like the logical pick because of his success in the late innings last season, but Valentine went with Aceves and things did not work out so well on Opening Day. With Bard in the rotation, Valentine faces another potential firestorm if Bard struggles as a starter in his first outing.
Valentine likely has a long leash with ownership and with Cherington. However, he has an extremely short leash with Red Sox fans who are still bitter about the end of last season, and with the Boston media who are always looking for a good storyline. A couple of wins and some good innings by Aceves and Bard and all of this smooth over. A couple of blown saves by Aceves and a loss by Bard is going to create a nightmare scenario for the new Red Sox manager.