Felix Doubront took the mound for the Red Sox and helped bring the team to another win. Winning this game put the Sox solely in 4th place and for the first time of the season out of the basement. As of today, the Sox are only 2 games out of first place in the AL East.
Doubront had himself a nice outing on the mound. His line for the night was 101 pitches, 6.1 IP, 7 H, 3 R, 2 ER, 1 BB, 7 Ks. Doubront was pitching well, however he did give up the solo HR to allow most of his runs to score. He gave up a solo HR to Jeff Mathis in the 3rd and a solo HR to Bautista in the 5th. Johnson got an RBI single in the 4th with a single. That was an unearned run because of a fielding error from Doubront earlier in the inning.
The Sox bats got in the game early and often. The Sox scored 4 runs in the 2nd inning. Salty walked and Sweeney hit a single. With 2 outs, Middlebrooks hit an RBI single to score Salty. Punto hit an RBI double to score Sweeney and then Nava hit a single (right by Rasmus' glove) to score the last two runs of the inning. Sox 4-0. In the 4th inning, Middlebrooks hit into a double play however Youk scored from third. Sox 5-1. In the 8th, the Sox scored a run on an RBI from Sweeney. Sox 6-3. The Sox scored their final run in the 9th with a solo HR from Nick Punto. You heard me, a HR from Nick Punto. Sox 7-4.
When Doubront left the game, he was replaced in the 7th by Matt Albers. Albers continued to get the job done on the mound. Albers got the 2 outs we needed and was out of the 7th inning. Albers started the 8th inning as well, however he gave up a single and an then got one out. He would be replaced by Miller. Miller got the one batter he was in to face and then gave the ball to Padilla. Padilla gave up a single to Lawrie and Encarnacion would score on a throwing error from Sweeney. The Jays seemed like they might be rallying, however Lawrie tried to steal third and was thrown out with a great throw from Salty and tag from Youk. Aceves came out in the 9th and once again had himself a nice and easy 1-2-3 inning.
Red Sox WIN! Water is Dirty!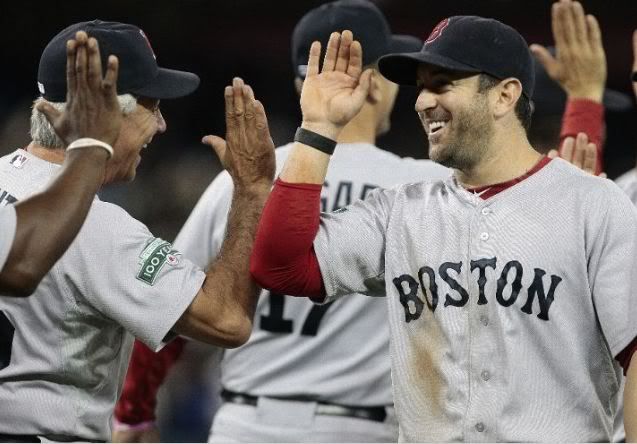 Photo Credit: Abelimages/Getty Images
Red Sox 7 Blue Jays 4 BOXSCORE
WP: Doubront (6-2) LP: Drabek (4-6) SV: Aceves (14)