The Red Sox were hoping to be able to sweep the White Sox and head home with a perfect road trip and one game over .500. Unfortunately that didn't happen, however the Sox still went 6 for 7 on the road trip and really have something to build upon.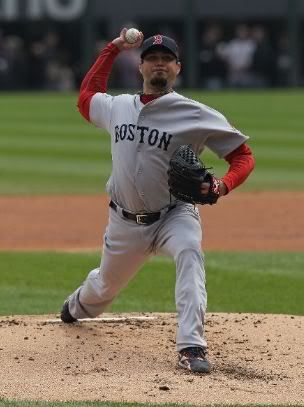 Photo Credit: Jonathan Daniel/Getty Images
Josh Beckett took the mound for the Red Sox. Beckett struggled in the 1st and then settled down to have a nice outing. Beckett gave up an RBI single to Rios for the Sox to be trailing 0-1. Then Beckett missed with a pitch to Adam Dunn and he crushed it. Sox 0-3. However after that, Beckett looked pretty great. You can't take away the first inning, but I was hopeful seeing a lot of the Beckett we need to see from that point foreward. Beckett's line for the night was 6.2 IP, 6 H, 3 R, 3 BBs, 8 Ks. Beckett left after throwing 126 pitches. It's the most pitches he has thrown since an outing in 2004. Scott Atchison came out in relief of Beckett. Atchy threw one pitch and got the final out of the 7th. Rich Hill took the mound in the 8th. Hill was a wee bit wild and only lasted for 2 outs. He gave up 2 hits, a walk and a run. Tazawa came out to get the final out of the 8th.
The real story of the game was Gavin Floyd. He had a perfect game going until he walked Cody Ross in the 5th. Floyd was really dealing and had a killer curve ball. He was making the forceful lineup look pretty meak. With the perfect game gone, Floyd still had a no hitter going. Dustin Pedroia took care of that in the 7th with a single to center field. Papi hit a double and then Cody Ross hit an RBI single to put the Sox on the board. Unfortunately, that was all the Sox bats could get going against Floyd. He just had everything going on.
No Dirty Water tonight, however the Red Sox showed some fight and are heading back to Fenway to face the A's.
Red Sox 1 White Sox 4 BOXSCORE
WP: Floyd (2-3) LP: Beckett (2-3) SV: Thorton (1)